Acrohm Fush Nano Pod System
Review
Overview
The Fush Nano Pod Kit features an LED light that encompasses the entire chassis and can be set to your preferred color by simply shaking the unit.  It is constructed from bulletproof PC with these finish options: marrs green, sapphire blue, pinkish purple, black, and silver. You may switch from smooth to a tighter draw for different vape experiences and a switch button permits setting power to 7 or 10 watts. Inside the Fush Nano, there is a 550mAh integrated battery that is recharged via a hidden micro USB port near the bottom. And, the safety features are high-temperature protection, low voltage protection, overtime protection, overload protection, short circuit protection, and reverse protection.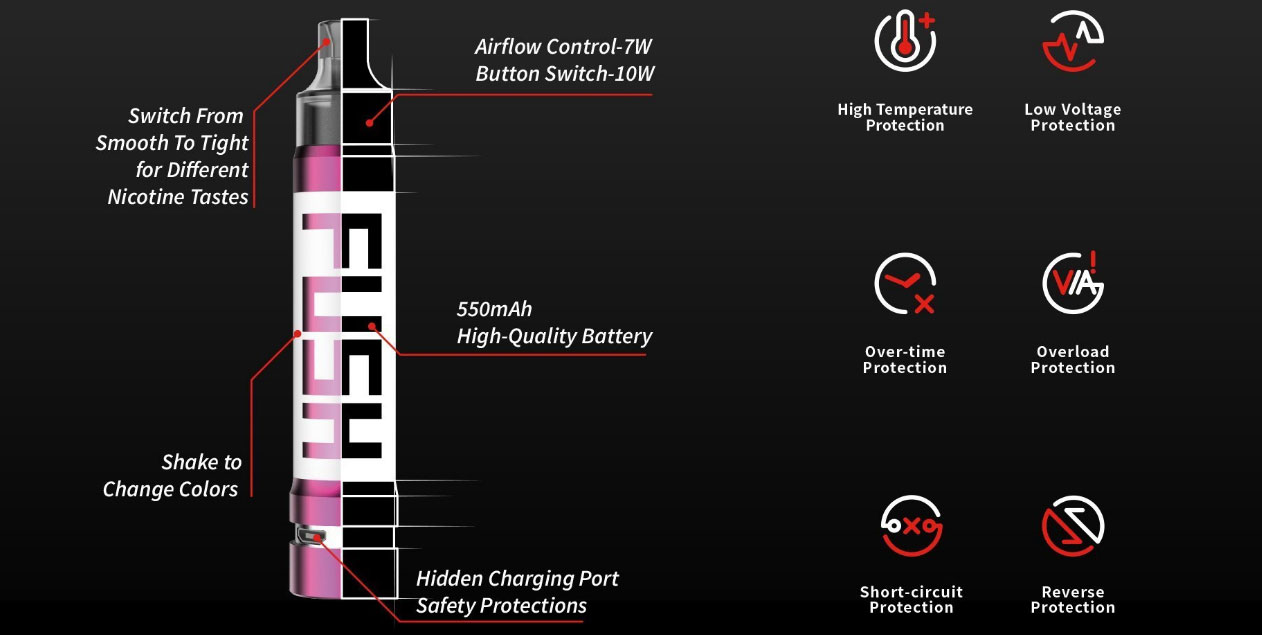 Intense Flavor
This new pod system is said to produce intense flavor at the 7 watt air pressure output setting. This means you can direct vape for amazing taste, but also with a great throat hit.

Bigger Vapor
By pressing the 10 watt output button, the device will produce much more vapor for massive clouds. When pressed 5 times, this switch will also turn off the device.

RTA-Like 1.5mL Pods
The pods can store up to 1.5mL of e-liquid and have an inner structure that resembles a build deck. This style of design promises vapor production that preserves the original flavor. Refilling the pod is also quite easy and occurs via a side-fill port that reduces e-juice leakage for an easy and clean filling process.

MTL or DTL 
Rotate the mouthpiece on the pod to switch between a tight or open draw. In this way, you can achieve more throat hit or bigger vapor.

Hidden Charging Port
To recharge the 550mAh integrated battery, there is an aesthetically charging interface embedded into the chassis that is exposed by pulling the bottom of the Fush Nano's chassis. The charging process only takes about 40 minutes to complete.

With Purchase
Included in the box, you will receive the Fush Nano Pod Kit, a lanyard for easy carrying, a quick guide, an extra pod, a micro USB cable, a manual and a warranty card.

Acrohm Fush Nano Features & Specifications
Dimensions: 100.6 x 19.3 x 19.3mm
Bulletproof polycarbonate pipe
Colors: Marrs Green, Sapphire Blue, Pinkish Purple, Black, Silver
7W or 10W switch
550mAh integrated battery
1A hidden charging system
Built with Ace chipset
1.5mL refillable pods
Vapes like RTA
1.4ohm coils for nic salts or standard e-liquids
Top fill system
Glowing LED Light
Customize light color by shaking
DTL or MTL style vaping
Safety protections

Reverse
Short circuit
Overload
Overtime
Low voltage
High temperature

Warning: This product is for advanced users only. Please take all proper precautions and follow proper handling techniques.
Use caution when using any atomizer on a hybrid mod. Never use an atomizer on a hybrid mod when the atomizer's 510 connection is shorter than or flush with the 510 threading on the mod. Failure to do so can result in possible injury.
Please use caution when working with or using Li-ion (Lithium-ion) batteries, LiPo (Lithium-ion Polymer) batteries, or any rechargeable batteries. Users should have a basic understanding of the batteries and chargers they're using and how to use and maintain them properly.
Never leave charging batteries unattended. Do not use any batteries or chargers that have been mishandled or damaged, or show any signs of being mishandled or damaged. Dispose of batteries and chargers in accordance with local laws.
Vape Dispatch and any or all of Vape Dispatch's parent or subsidiaries will not be held responsible or liable for any injury, damage, or defect, permanent or temporary that may be caused by the improper use of a Li-ion (Lithium-ion), LiPo (Lithium-ion Polymer) and any other rechargeable batteries and chargers.
---
We Also Recommend